This board is the new home for david63's extensions.

All of the extensions hosted here will need to be treated as a new install as there is no migration from the original ones to these, and furthermore, no support will be given to migrating to any of these extensions from previous versions.

---
Due to the selfishness of certain board members it has become necessary to apply a limit of how many downloads each member can make before making a donation. Once a donation has been made then you will have unlimited downloads.
Owner

Posts: 272
Joined: October 2022
---
Member

Posts: 3
Joined: October 2023
I don't know why I get this error. I managed to correct it directly in the database by changing the values. It is activated but it does not appear in the ACP extensions.
If I understand the error, it tells me that an extension already exists but I can't find it.
"A problem was encountered during the database update operation. Changes already applied have been rolled back as best as possible, please check your forum for errors.
A module already has this name: PRIVACY_POLICY"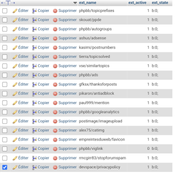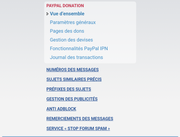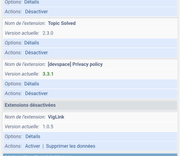 ---
Member

Posts: 3
Joined: October 2023
I was able to correct it and it works very well. I searched the database for the old name (david63) and I had 3 hits. I deleted them and everything came back to normal. THANKS
---